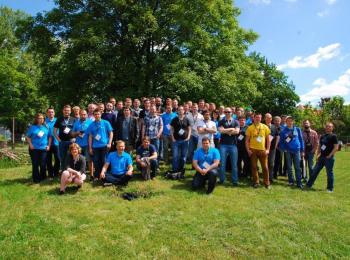 This is the end of Drupal. To be more precise, this is not the end of Drupal but Drupal Camp 2017.
Yes, the title is clickbait :)
Drupal is just getting started. It is possible thanks to the revolutionary changes that were introduced with version 8, but that's a different story. Here, we would like to sum up the conference.
The first meeting connected with organising the conference took place in November 2016. It took us half a year to prepare the sixth edition of the conference and that was hard work. We have been organising DrupalCamp since 2012!
This time, we have changed the way we organise our work. There is a new boss responsible for organising the conference – Krzysztof Bachta. He made sure that everything was done right and on time. Many other people also helped:
Agata Leszczyńska
Daniel Nowak
Robert Kandzia
Michał Potasiak
Bartek Filipiuk
Paweł Górski
Jarosław Bartman
Grzegorz Bartman
Maciej Łukiański
We changed the venue for the conference. We met in Campanile Wroclaw Centrum Hotel. That change was a little random and forced, but it was a great decision in the end. The hotel, as well as its staff, has a touch of class. If anyone is looking for a place for a conference in Wrocław, go there.
Droptica was the sponsor of the conference (http://www.droptica.pl i http://www.kariera.droptica.pl). The prizes were founded by the following companies: Jetbrains (PHPStorm) and Drupalize.me.
There were 12 very interesting lectures. You will have a possibility to watch them soon, using YouTube. We had many interesting speakers (Polish and foreign). It was a great opportunity to listen to them and ask about any details live.
Another occasion to share knowledge and ask questions was during the integrative evening party. It is part and parcel of the conference and for some people it is the most important element of DrupalCamp ;) The contests during Drupal Party were popular among the competitors. If you had missed it, you should regret it! :)
 
At the conference, there were 70 people out of 100 that had registered on our website. Therefore, attendance was 70% (just like in the previous editions).
After the conference, we talked about our future plans for the convention. We are thinking about different ways to attract more people. One of our ideas is organising basic Drupal workshops with a concrete example (eg. a simple website for a small company). This will be part of Drupal's promotion in Poland within the framework of DrupalDay.
 
We will try to get a bigger budget to invite some interesting foreign guests. We want to attract more experienced users using more interesting lectures.
 
We will send a survey to those of you who are registered on our website. We would like to know what you think of DrupalCamp 2017. Your opinion is really important to us.
 
Thank you very much for your attendance and see you next year!